Second Coming of Christ
The Book of Revelation
Revelation 1 to 3 – The Seven Churches.
Revelation 4 to 5 – The judgement of Christ.
Revelation 6 to 19:10 – The Tribulation.
Revelation 19:11-21 – The Second coming of Christ (War of Armageddon).
Revelation 20 – The Millennium reign of Christ
Revelation 21 & 22 – The new heaven and new earth (Eternity with Christ).
Illustration: Some of you watch the World Cup. Imagine because of work, you were unable to watch live. So you recorded it hoping to catch the action after your work. Then before you can watch it, a friend come to you and tell you that your team has won the game (Spoiler). How do you feel? You probably feel a little upset, but then, you are certainly happy that your team has won.
Today I am telling you, those who choose God's side, we have won the battle!
Roadmap
The War.
The Wedding.
The Win.
The War (Armageddon)
Where do all the "Interludes" feed-in?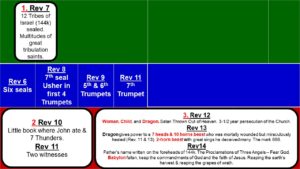 Characters and Interpretations
Woman with male Child – Israel
Child – Jesus
Dragon – Satan
7 heads (10 horns (kings) beast – Antichrist; One world government.
2 horn beast – False Prophet; One world religion.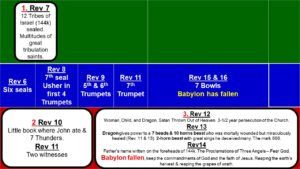 Revelation 16:15-16 15 "Behold, I am coming as a thief. Blessed ishe who watches, and keeps his garments, lest he walk naked and they see his shame." 16 And they gathered them together to the place called in Hebrew, Armageddon.
Revelation 14:8 & 16:9 declared Babylon has fallen, Revelation 17 & 18 gives the details.
Woman/Harlot sitting on the beast (Anti-Christ) – False Religion, apostate Israel and church.
Babylon
Literal – Iraq
Rome – Vatican City which seats on 7 hills.
World System – Anti-God and anti-Christian, carnal, immoral, etc.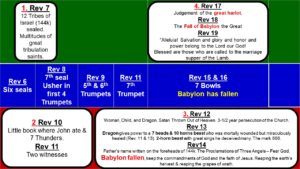 Revelation 19:11-14 11Now I saw heaven opened, and behold, a white horse. And He who sat on him was called Faithful and True, and in righteousness He judges and makes war. 12His eyes were like a flame of fire, and on His head were many crowns. He had a name written that no one knew except Himself. 13He was clothed with a robe dipped in blood, and His name is called The Word of God. 14And the armies in heaven, clothed in fine linen, white and clean, followed Him on white horses.
Revelation 19:15-16 15Now out of His mouth goes a sharp sword, that with it He should strike the nations. And He Himself will rule them with a rod of iron. He Himself treads the winepress of the fierceness and wrath of Almighty God. 16And He has on His robe and on His thigh a name written: KING OF KINGS AND LORD OF LORDS.
The War.
The Wedding.
A) Commitment (Shiddukhin)
B) Betrothal (Kiddushin or Erusin: Sanctification or dedication)
C) Marriage (Nissuin: The couple start their life together)
A) Commitment (Shiddukhin)
Shiddukhin is when the groom would give the bridal money or valuables such as a ring. A cup of wine was customarily shared to seal their vows.
From here the couple entered into the betrothal period, which typically would last for about a year.
They were considered married but they did not live together or consummate their relationship.
When we accept the Lord Jesus and commit our lives to Him, we have entered this covenantal relationship with Jesus.
Hebrews 9:15 And for this reason He (Jesus) is the Mediator of the new covenant, by means of death, for the redemption of the transgressions under the first covenant, that those who are called may receive the promise of the eternal inheritance.
B) Betrothal (Kiddushin or Erusin: Sanctification or dedication)
At this betrothal period, the bride will get herself ready by preparing her wedding garments, lamps, etc. The groom will go away to prepare a place for his bride.
John 14:3 And if I go and prepare a place for you, I will come again and receive you to Myself; that where I am, there you may be also.
While the bride knew roughly when her groom is returning, but she did not know the exact day or hour. It was the father of the groom who gave final approval for him to return to collect his bride.
Matthew 25:1–13 Parable of the Ten Virgins.
Judgment Seat (Bema – Court or Tribunal) of Christ.
2 Corinthians 5:10 For we must all appear before the judgment seat of Christ, that each one may receive the things done in the body, according to what he has done, whether good or bad.
Illustration – A man built himself a beautiful house and after furnishing it, he moved in to enjoy this beautiful house he built. One day, however, he smelled smoke later found out that his house was on fire. He managed to dash out of his house saving his life, but his new house was burnt to the ground. On one hand, he is happy that he managed to preserve his own life, but on the other hand, he was very sad to see his new house is burnt down.
Then coming of the bridegroom and the bride that has made herself ready will be lifted up (A Jewish wedding tradition is called nissuin).
From here, the bride and groom would enter the huppah (a canopy under which the bride and groom stand during a Jewish wedding ceremony) to recite a blessing over the wine which is a symbol of joy, and then finalize their vows.
Finally, the bride and groom would consummate their marriage and live together as husband and wife, fully partaking of all the duties and privileges of the covenant of marriage.
C) Marriage (Nissuin: The couple start their life together)
Revelation 19:9 Then he said to me, "Write: 'Blessed are those who are called to the marriage supper of the Lamb!' " And he said to me, "These are the true sayings of God."
Today we are blessed to know that we will celebrate the marriage supper of the Lamb as we continue to be prepared and ready for His return.
Revelation 21:1-2 1Now I saw a new heaven and a new earth, for the first heaven and the first earth had passed away. Also, there was no more sea. 2Then I, John, saw the holy city, New Jerusalem, coming down out of heaven from God, prepared as a bride adorned for her husband.
Reach out while we can before the second coming of the Lord Jesus.
The War.
The Wedding.
The Win.
Revelation 19:19-21 The beast was captured, and with him, the false prophet were cast alive into the lake of fire burning with brimstone.
Revelation 20:1-3 1Then I saw an angel coming down from heaven, having the key to the bottomless pit and a great chain in his hand. 2He laid hold of the dragon, that serpent of old, who is the devil and Satan, and bound him for a thousand years; 3and he cast him into the bottomless pit, and shut him up, and set a seal on him so that he should deceive the nations no more till the thousand years were finished. But after these things, he must be released for a little while.
Revelation 20:7-10 7Now when the thousand years have expired, Satan will be released from his prison 8and will go out to deceive the nations which are in the four corners of the earth, Gog and Magog, to gather them together to battle, whose number is as the sand of the sea. 9They went up on the breadth of the earth and surrounded the camp of the saints and the beloved city. And fire came down from God out of heaven and devoured them. 10The devil, who deceived them, was cast into the lake of fire and brimstone where the beast and the false prophet  And they will be tormented day and night forever and ever.
Revelation 20:11-15
Great white throne judgement.
Book of Life – And the dead were judged according to their works, by the things which were written in the books.
Death and Hades were cast into the lake of fire.
This is the second death and anyone not found written in the Book of Life was cast into the lake of fire.
Revelation 21
New heaven.
New Earth.
New Jerusalem.
Closing
Revelation 22:11-14 11He who is unjust, let him be unjust still; he who is filthy, let him be filthy still; he who is righteous, let him be righteous still; he who is holy, let him be holy still." 12 "And behold, I am coming quickly, and My reward is with Me, to give to every one according to his work. 13I am the Alpha and the Omega, the Beginning and the End, the First and the Last." 14Blessed are those who do His commandments, that they may have the right to the tree of life, and may enter through the gates into the city.
As Christ return is going to be so sudden, there will be no chance or tie for those who refused to repent and to turn to Him, so let's live a righteous and holy life.